Snapshot
UX Design, Mentorship, and Tech for Social Good at HackHer413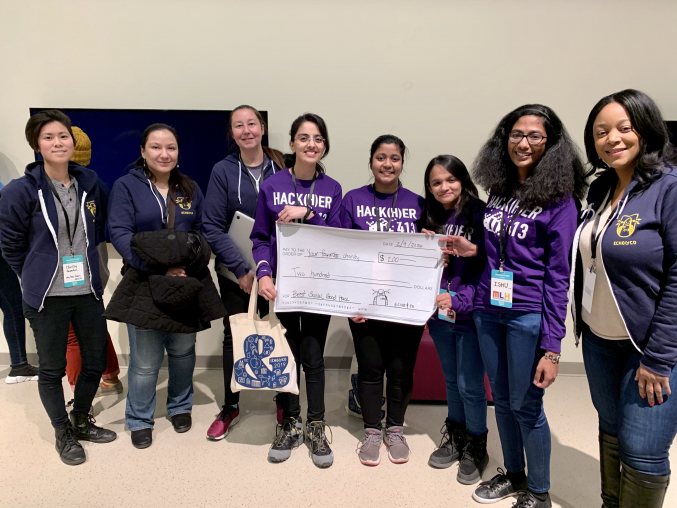 UX Design, Mentorship, and Tech for Social Good at HackHer413
What an exciting weekend our team had at HackHer413! Our team was on the scene at the first all-women (cis and trans) and non-binary students' hackathon in Western Massachusetts. We sponsored the second annual event, where we had the opportunity to meet and mentor 300 inspiring women — a diverse and impressive group of future tech leaders.
Stacie Sheldon, our Director of User Research and Experience, along with Chrissy Guertin (Frontend Designer) and Qudsia Aziz (Web Developer), facilitated an engaging workshop to kick off the first day. Her presentation, "Sketching UX: Designing a Homepage," provided eager attendees with a blueprint for designing and creating a website. Later, Stacie and Peter Sax, our CTO, participated in "Coffee With Mentors," providing tech career advice and guidance to attendees.
The event concluded with attendees presenting their creative technological hacks to compete for prizes in a number of categories. Our category, "Best Social Good Hack," had almost 30 entries! It was a tough decision to select a winner, as each team presented an incredible variety of environmental, health and medical, and social tech software and hardware that they created — overnight!
In the end, we unanimously chose the team behind Ladki - a personalized wearable healthcare device. We were impressed with the teams' social impact mission to build awareness among women about their reproductive health and help women live healthier lifestyles. We were also impressed with their use of technologies, including HTML/CSS, Python, Flask, and AI/Machine Learning. The ladies were excited to learn of their win later at the HackHer413 awards celebration. As part of their prize, they will make a donation to a women-focused charity of their choice.
We loved the opportunity to mentor such an amazingly talented group of women in tech, and to watch them collaborate to create innovative technologies. We're excited to follow their progress beyond HackHer413.
View photos from the event here. To learn more about HackHer413 and learn how you can get involved in next year's event, visit their website.