Food & Water Watch is the only national advocacy group that protects the food you eat and the water you drink by building a broad-based movement to put people before corporate profits. Their mission is to speak truth to power, and they needed a web presence that spoke to that attitude and could help them cultivate an audience of activists.
Why Echo&Co
Food & Water Watch sought more than a surface-level design overhaul. Their sites (both a grassroots-oriented nonprofit and a policy-shaping advocacy site) had to quickly highlight their key issues and their in-progress solutions, give their field teams across the country a home base on the web, and house their considerable research and policy documentation repository in a way that was accessible to audiences of all levels of engagement.
Our Approach:
Content Inventory, Audit, & Gaps Analysis
Information Architecture
Content Strategy & Definition
User Experience Definition
Responsive User Interface & Interaction Design 
Drupal 7 Development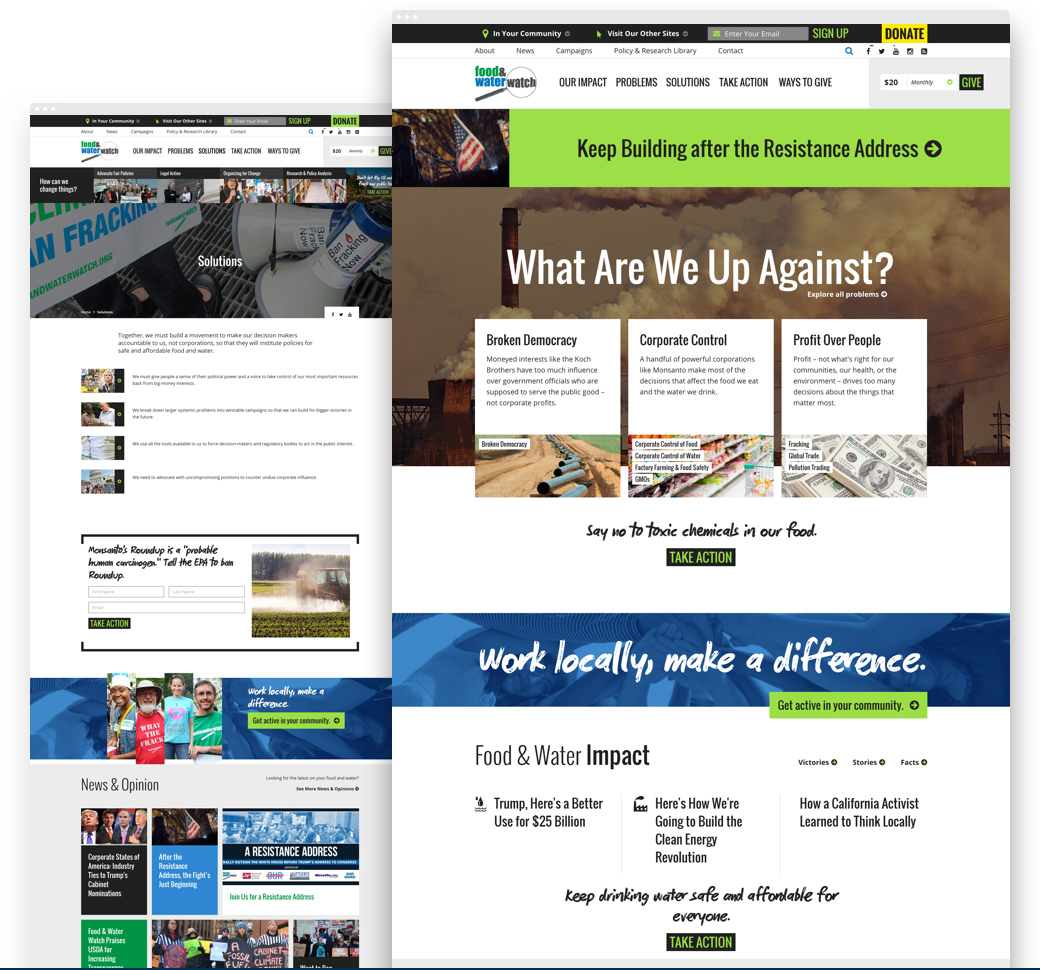 Works on all screens and devices
Their desktop-only design no longer reflected their identity or goals, and caused problems for their field partners working on smaller screens. It also lacked modern digital capabilities like social sharing and the ability to discover related content. We implemented a modern responsive design focused on persuasion, emotion, and trust, to convert users from information-seekers to activists.
A fresh new look and feel
The outdated page design focused heavily on text and secondary content proved distracting, resulting in users taking 27 minutes or longer to fully comprehend the organization's mission and purpose. We updated page layouts to include large, contextually relevant imagery and easy-to-read text styles, combined with a user-centered content strategy and improved SEO, making it easier for users to scan and act.
User friendly content management 
The Food & Water Watch team had an inflexible, time-consuming content management system (CMS), which limited their ability to advance the organization's digital strategy. Further, the system's archaic content tagging system did not allow for easy discovery of related or relevant content. Using Drupal, our team developed to an intuitive, adaptable CMS with easy content and user management, improved customization options, and automated tools.
Now Food & Water Watch's website is easy and intuitive for both their internal users and external audience to interact with. They're able to take their digital programming forward with content and style that work for their organization.