BrightFocus Foundation is one of the largest funders of research for Alzheimer's, Macular Degeneration, and Glaucoma in the United States. BrightFocus was founded in 1973 as the American Health Assistance Foundation (AHAF) until its rebranding in 2013.
Why Echo&Co?
When BrightFocus partnered with us, they were still maturing as the newly rebranded BrightFocus Foundation, and needed a web presence that promoted the new brand, made content accessible to audiences that often have difficulty reading or viewing content on screens, and reflected the organization's vision, identity, and mission to find a cure for brain and eye disease. We were excited at the potential to make BrightFocus the best, most useful source of credible and accessible brain and eye disease content online.
Our Approach:
Content Strategy & Definition 
User Experience Definition 
Data Visualization & Iconography
Responsive User Interface & Interaction Design 
Mobil Responsiveness & Accessibility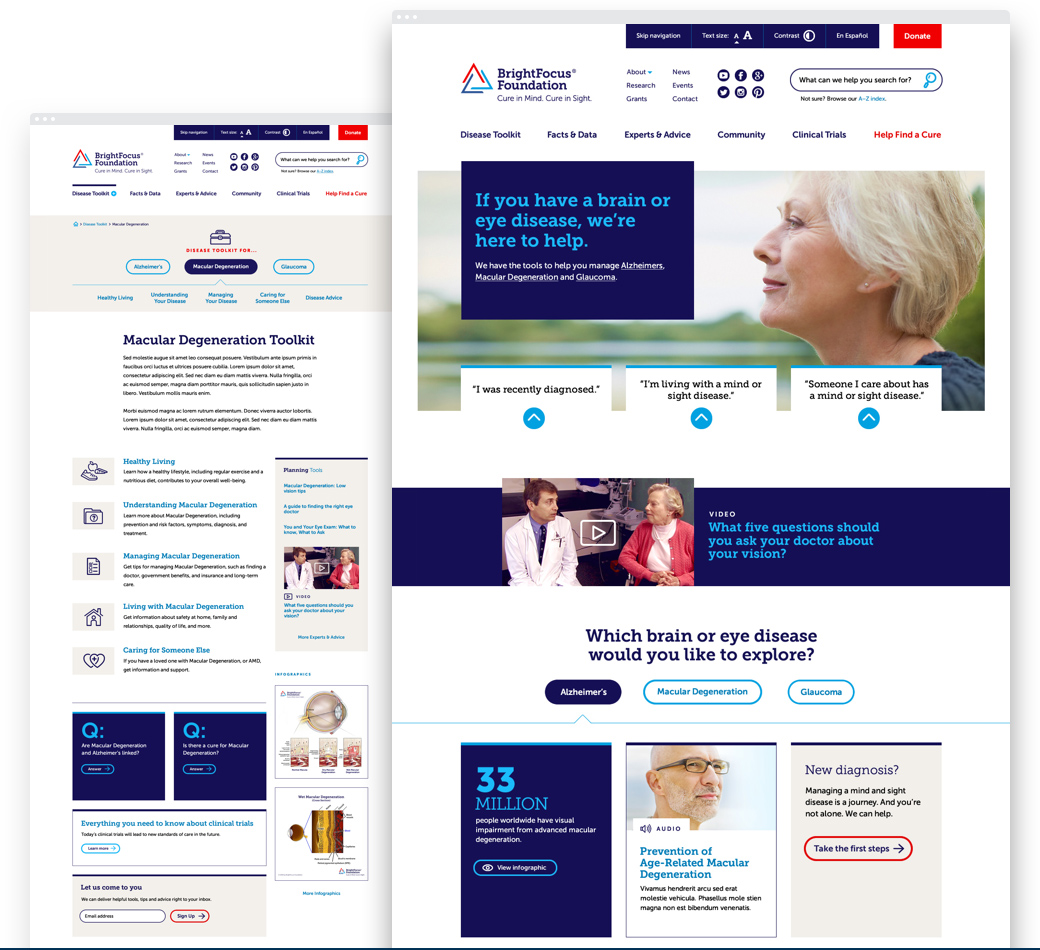 Changing the user experience
BrightFocus had recently rebranded and needed to completely re-envision their online user experience and content strategy to support their new brand. The architecture of the site was institutionally driven, rather than user centric, and did not differentiate between user types. We worked with BrightFocus to define personas, user journeys, content types and models, and a new brand architecture and content strategy that would form the core of the site experience.
Accessibility for everyone
The majority of BrightFocus' audiences are facing cognitive and/or visual impairment, so the site had to be built for maximum accessibility for all audiences. In addition to structured, well-coded HTML and CSS to help screen readers, we implemented several accessibility features including the ability to quickly resize text as well as a fully contrasted, low-light version of the site design. The site's user experience and visual design was created based on insights from research in accessibility for audiences with cognitive or visual impairment.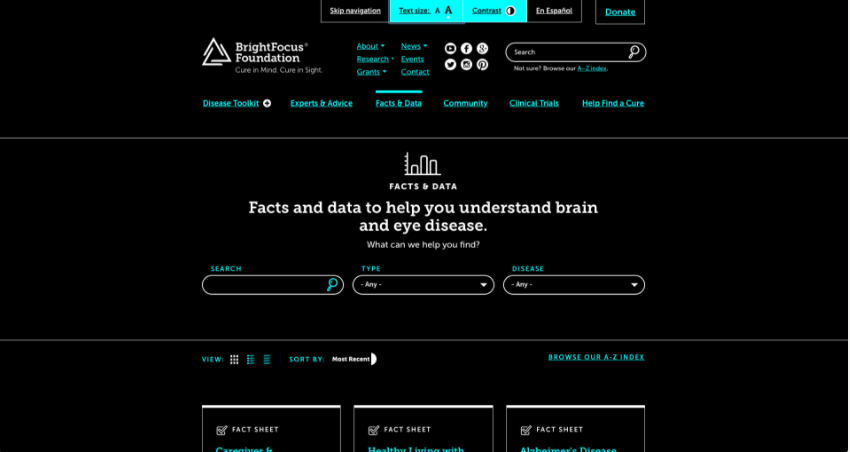 Content is king
BrightFocus did not have the experience or capacity to manage the widespread change in content and content governance that a project of this scale would require. We stepped in to manage the entire content effort, from strategy and planning to production and release. Our content strategist managed a blended team of two BrightFocus staff, two freelancers, and two Echo&Co team members working to successfully complete the content for launch.
Before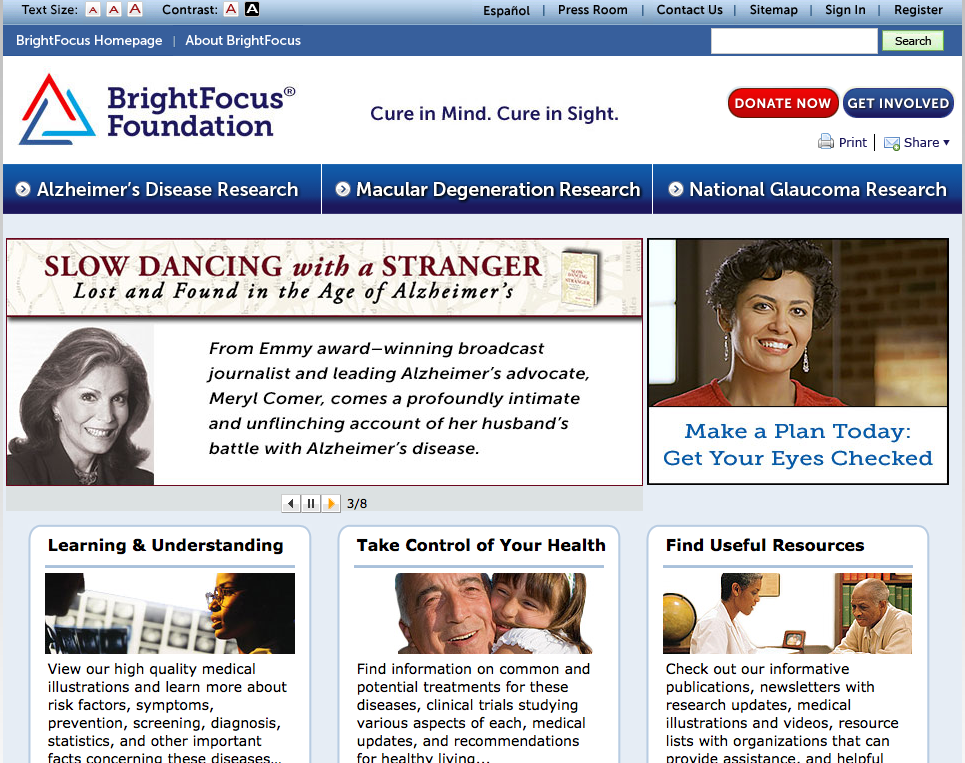 After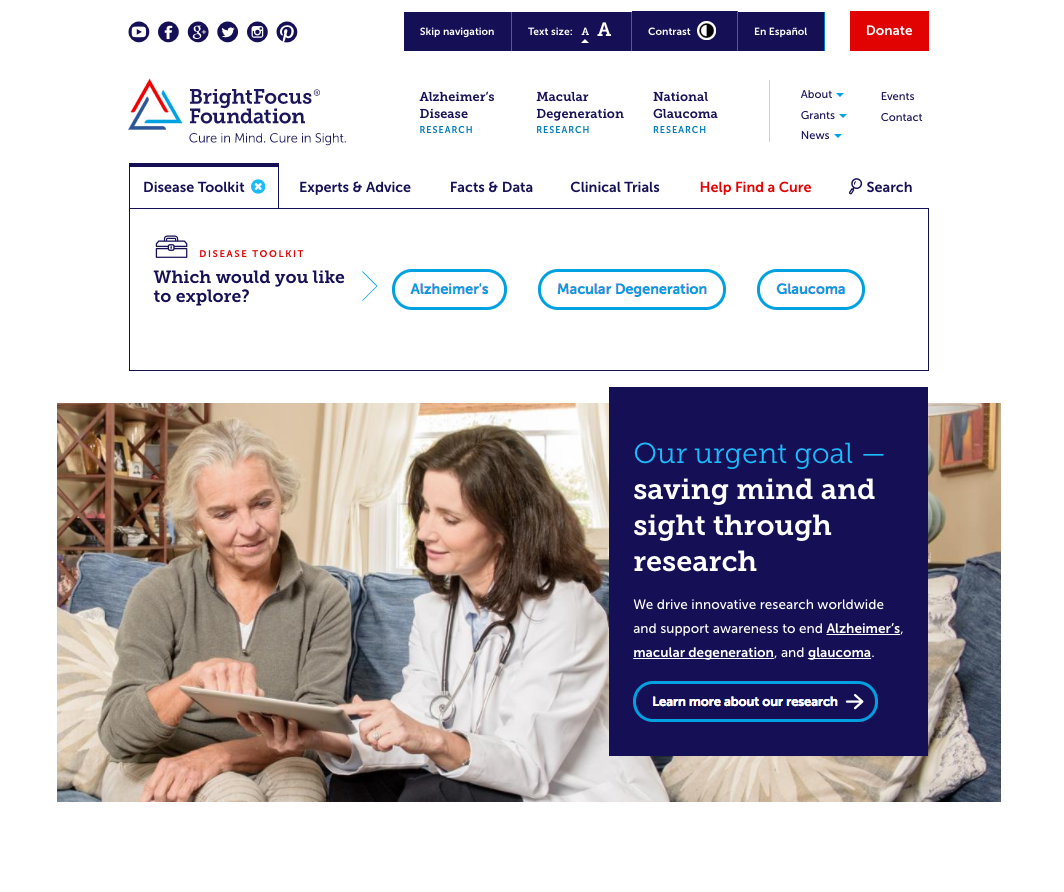 Slide across the image above to see the website before and after our redesign.
Before and after our redesign.