Bowery Residents' Committee (BRC) has been fighting homelessness in New York for more than 45 years. Their efforts are wide ranging, with programs designed to help feed, house, train, and care for the vastly underserved in New York City and large parts of the state.
Why Echo&Co?
When BRC first came to Echo&Co, they felt their website did not convey the importance and reach of their work, nor how far the organization had evolved in recent years. Together, we explored the content, design, and technology changes BRC would need to reach their objectives as an organization.
Our Approach:
Heuristic Evaluation
Information Architecture
User Experience Definition
Responsive User Interface & Interaction Design
Drupal 8 Development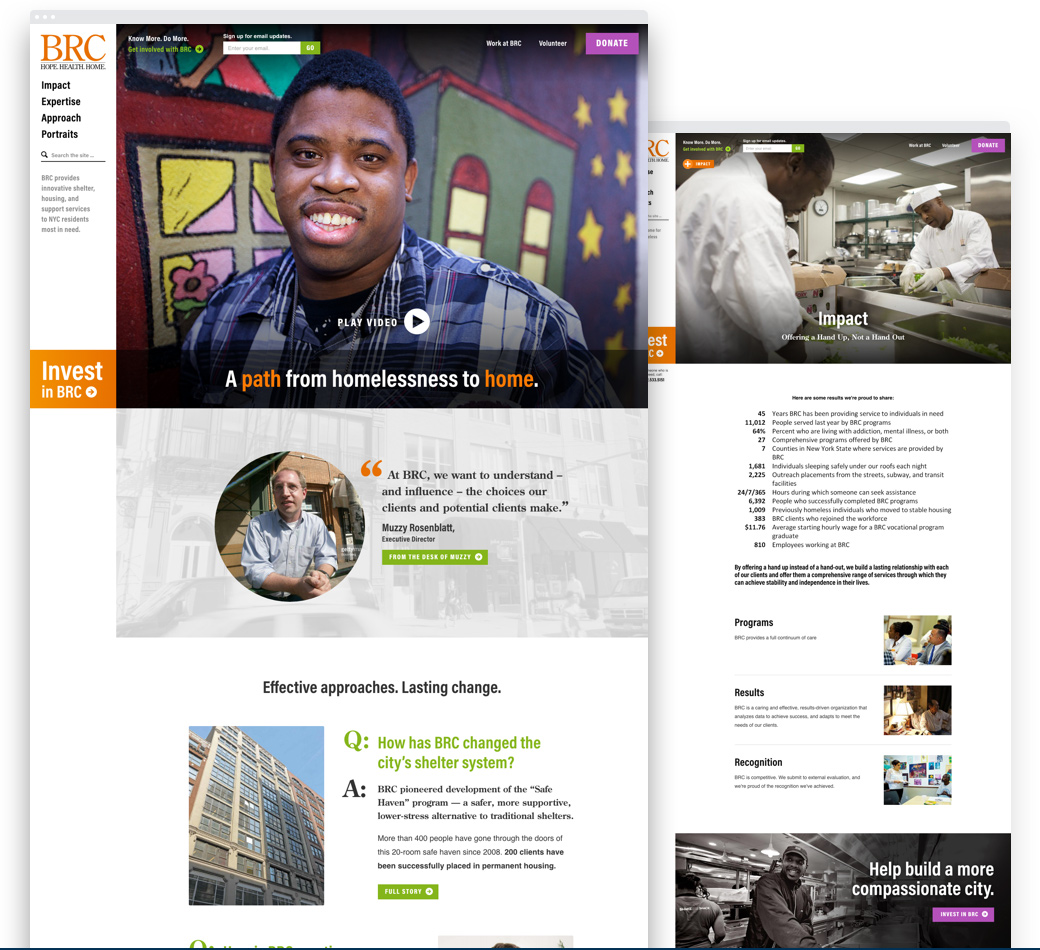 Designing for a modern organization
One of BRC's major concerns when they first came to us was that their website's look was dated, even beyond the ten years since its last refresh. But any redesign had to work with their existing brand and logo design. We led them through a design process that was focused on rounding out the existing color palette and using typography and photography to bring weight and impact to the site.
Removing the friction
BRC's existing technical infrastructure required even small content changes to go through external developers. This not only costs more, but adds a significant turnaround time to any site changes. We built the new brc.org in Drupal 8, providing their staff with easy to use and powerful content authoring tools.
Creating the right content
During our planning and discovery phase, it quickly became evident that BRC's content needs had greatly evolved in the decade since they last designed their website. Our project expanded to include content strategy and copywriting assistance. Now BRC could launch with content on its new site to drive home the huge impact their work has, not just as a way of garnering support among volunteers and individual donors, but to underline their outstanding credentials to major donors as well.