Dear Ditto,
What are some best practices for leading remote content strategy training sessions?
Before we dive in, let's acknowledge the joys of in-person content strategy training: one in which we could create a space dedicated to creative work, get messy with markers, hold small breakout sessions, and reconvene for large group analysis and discussion. In other words: mix fun, physical engagement, and UDL engagement principles to support learning and retention.
Now, of course, the parameters have shifted. As we mentioned in our last Advice article, connecting remotely is fast becoming the new normal for many, challenging the way we create and share work. Because most states have closed schools, millions of parents and caregivers — including many of our project partners — need to meld work and family time. We don't have the luxury of creating a space dedicated to learning, separate from normal routines and to-dos, nor the ease of a shared water cooler for asking questions. 
To lead productive, engaging training sessions, use accessible digital tools, design replicable processes, and establish multiple help channels. 
We have a culture of continuous learning at Echo, a distributed team, and partners across the country and abroad. Together, we've spent years testing tools and refining our approach. Below are best practices to help you prepare and lead engaging–and productive–remote training sessions.
1. Use Accessible Tools
For remote content strategy trainings, digital tools should be accessible in terms of cost and learning curve. We've found success creating shared Google Drive folders. Google Drive is free, widely-used, and flexible enough to create a virtual reference desk for participants to return to as needed. We prepare ours with examples, recommended resources, and practice sets. During the session, we take time to refine materials and structure with participants, so together we create tools that tightly align goals and needs.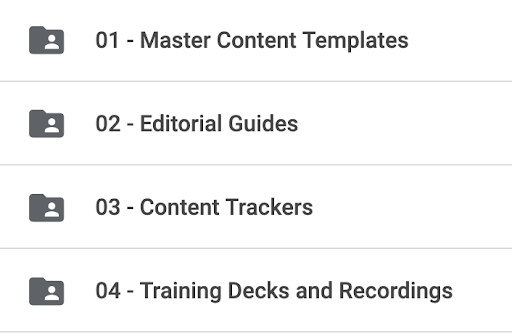 To ensure success, we recommend:
Creating folders with

clear labels and purposes

.

Setting

folder access

to "anyone with the link can organize, add, & edit."

Setting

template document access to

"anyone with the link can edit."

Setting

access for example documents

to "anyone with link can view."
As in good information architecture, your drive should maintain a healthy balance between going flat vs. deep in your folder hierarchy. Three or more documents on the same topic warrant one folder; folders are rarely necessary for one or two items. 
2. Design Replicable Processes
For equity and efficiency, we recommend taking a "train-the-trainer" approach, so all participants are ready to apply what they learn and bring in others. No one person is the knowledge-keeper, so everyone can contribute, collaborate, and keep the project moving forward–even while social distancing.
To prepare for a session on writing for your website, start by setting up Google doc versions of your web pages. Teams can create copies of the template, practice completing them, and provide feedback through comments and the Suggesting editing mode. This process allows for conversation, peer-to-peer learning, and co-creation, without real-time access to the workshop lead–and without worrying about erasing someone's work. As they practice, participants will take ownership of the process and onboard others.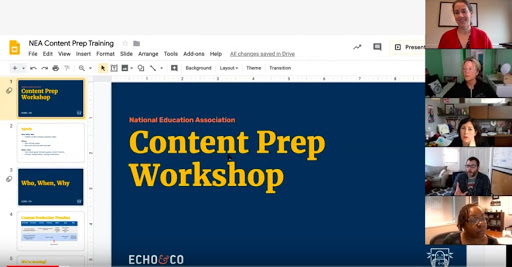 To ensure success, we recommend:
Making Google Docs templates

of our wireframes that every content creator can access — nicely organized in your folders!

Completing them

together

, in real time, with real content, on a video call.

Recording the training

and providing edit access to the slide deck. 
These steps provide team members with the same benefits of in-person workshops: working in a low-stakes environment, learning from their peers, building mastery through guided practice, and making materials to reference and annotate later.
3. Establish Help Channels
Under normal circumstances, for efficiency and clarity, we recommend workshop participants designate one person to collect and send questions to the workshop lead during the implementation phase. Now, we emphasize being as flexible as possible, to support everyone's disrupted schedules.
To ease communication, we suggest trainers set up at least two ways for everyone on the project to ask questions and connect:
Virtual office hours

on RingCentral or other video conference platform for project participants to "drop in" and ask questions or review their work. 

A

short Google form

for sending help requests outside of normal office hours. 
These avenues allow us to connect with and support each other, and accommodate schedules and communication styles.
Although face-to-face interactions are always preferred, remote content strategy training sessions can be effective and successful when you use accessible tools, create replicable processes, and establish help channels. If you need assistance in refining your digital strategy, get in touch